Mother's day is on May 8 this year. I love giving gifts to my mom for her special day, and I bet she's not alone in loving to receive unique items that seem like they exist just for her. 
Handmade gifts are always unique and special - let's be honest, your mom will always love anything you make for her.
If you're a crafty type, plan to drop back in to the blog next week for a series of DIY tutorials for Mother's Day gifts. 
But let's also be honest here. There isn't always time for making that perfect handmade gift… 
(like the time that I pinned about 15 projects that would have been perfect… and then got overwhelmed trying to decide which one to do… and then ran out of time and had to get something from a store because I was in the midst of a "ptsd" breakdown… that is Pinterest Traumatized Stressing Dilemma). 
So with that breakdown in mind and a few weeks left until Mother's Day this year, I've done some searching on Etsy. I found some great handmade gift ideas that would be just as unique and special… and don't require a trip to the craft store! 
Here are 5 that caught my eye from a search for Mother's Day Gifts on Etsy. ❀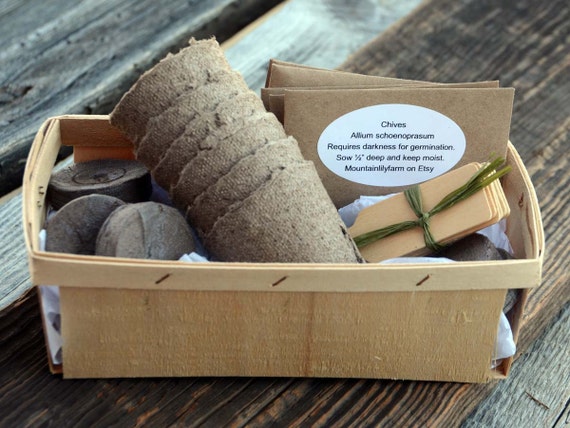 This Herb Seed growing kit is just one seed growing kit from Mountain Lily Farm on Etsy, and I chose it because herbs are just so incredibly handy and delicious. But I would be lying if I said I wasn't having a hard time choosing between their Butterfly Garden seed kit or the Mother's Day Wildflower seed kit.  This shop is in Arkansas and has a wide range of options for the gardening enthusiast. I highly suggest visiting and taking a look around - you'll definitely find something for mom… and your aunt. And maybe a few other people too.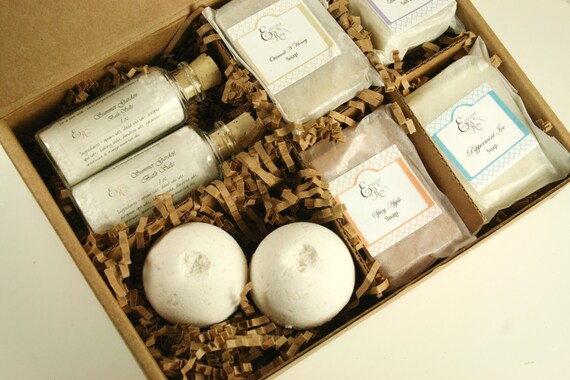 I love this selection of bath and spa items, and I do not say that lightly. I'm not one to give bath items as gifts. I think it's such a personal decision to make - fragrances, ingredients, textures. But the Elegant Rose Boutique shop from Michigan has quite a collection of items that are made from simple, natural ingredients from the start. The gift set contains a selection of different items with different textures that's sure to make any mom find something she'll like (Not sure if she's a bath bomb kind of mom? She can find that out herself. But if she's not, she'll probably love the bath salts.) Add to that a selection of three fragrance families (citrus, lavender, or floral) that you get to choose from based on her personality and you're sure to have a gift she's sure to enjoy.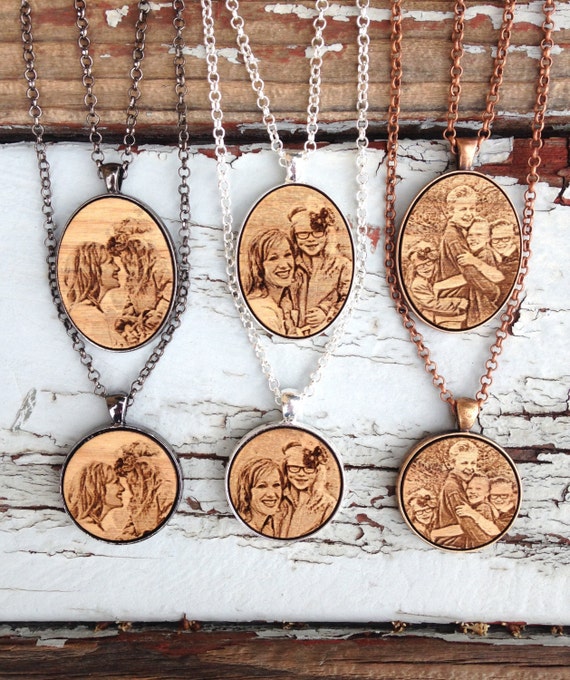 I had a hard time deciding between highlighting Sweenks Custom Laser
wooden photo necklaces
or the
photo wood slice
that is basically the next best thing to a natural family portrait. I went with the necklace because I think this is probably the most endearing piece of unique jewelry I've ever seen. bringing nature together with a family picture - priceless.  *If you're going to order one of these gorgeous laser photo transfers, this shop from Utah has some great tips from their experience written in the item description about what types of photos work best and the range of colors and tones that work best for the transfer.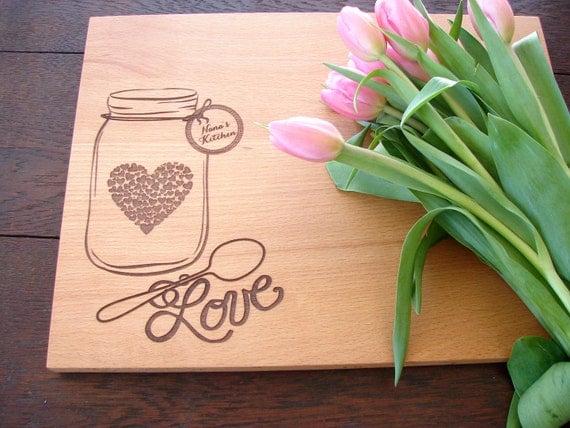 I am in love with this mason jar cutting board, with its sweet mix of nostalgia and "let's get cooking." This shop from Florida offers this cutting board (and many other designs too, including a whole section for Mother's Day gifts) in a whole list of sizes and wood options - and if "Nana's Kitchen" doesn't fit for your particular Mother's Day needs, they'll customize it and change the name for you. The tears coming down her cheeks won't be from cutting the onions when she opens this gift.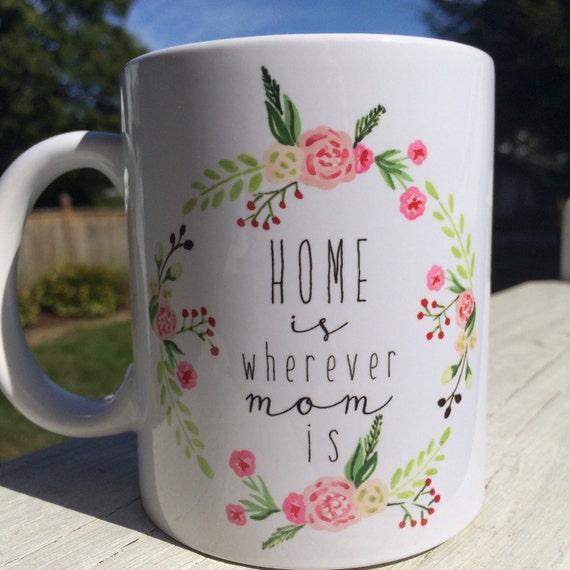 There are lots of mugs on Etsy, and plenty that have this same quote for "Home is Wherever Mom is," but this one stood out to me. The combination of its feminine colors, classy style and lovely script really makes this one a mug that I would pull out of my own cabinet each morning - not to mention that it comes in two sizes depending on how much coffee mom likes to drink, and it's top rack dishwasher safe. The designer is in Massachusetts and makes them herself in her home (she doesn't have them mass-produced in a factory, which is all too common in mug shops). While you're shopping for mom's mug, she also has designs for your yoga-loving over-caffeinated best friend too. 
❀  There are the five I came up with, but of course that's just 5 of SO many things on Etsy to find.
If you decide to order anything on Etsy, make sure you read their item descriptions for details on the item options. You'll also want to pay attention to ordering deadlines and shipping times so you don't get your gift too late! (Some shops offer to ship to your recipient, so you may be able to send it directly to mom if you're running really late on ordering.)
And if you're not familiar with Etsy yet, well, you're just missing out! This Etsy Help article is an Introduction to Buying on Etsy and is a great place to start (with links to where you can get further information to any other questions you might have).